Life is unpredictable. No matter how good you are feeling right now, things can go horribly wrong in a matter of few seconds and this is the reason you always need to stay prepared for the worst. The same logic is applicable for kayaking as well. Kayaking in cold water or in cold weather is a challenge in itself. You need to be careful when it comes to dress because if your boat gets capsized in some twisted turn of fate, wrong dress choice can cost your life.
To help you out, here in this article, we are going to discuss different dressing options for those paddlers who are planning to paddle on cold water –
Layers
When you are participating in an outdoor activity that has got some level of physical activities involved, you need to put on layers. The reason behind this is to make it easier for the paddler to take the layers off whenever the temperate changes. Since weather changes all the time, you need to purchase good quality layers before you start your next kayaking escapade.
1. Water Resistant
You need to put only those cloths that are water resistant. In case the boat gets flipped over, you would have to spend hours on wet cloths unless you have some spare cloths available. This will increase the risk of hypothermia. This is the reason why you should never ever wear cotton cloths while kayaking. Cotton cloths are notorious for retaining water for a very long time and that can cause serious damage to your health. You need to choose only those clothing items that don't retain any water at all. It will help you keep the warmth of your body intact in case the kayak gets capsized for one reason or the other.
2. Inner Layer
The base layer which is also known as inner layer is usually prepared from polypropylene and there is a good reason behind it. Fabrics made from polypropylene help skin to get rid of the sweat fast. This material sucks the sweat from the body without you even realizing you and thus helping your body to keep its temperature stable. Try to opt for a thin inner layer because light inner layer will help you to keep your body temperature stable in warm condition. A thick inner layer would make you feel suffocated and you might end up sweating a lot and thus risking the chances of dehydration.
3. Second Layer
The purpose of the second layer is to provide insulation so that the body does not lose heat suddenly if you come in contact with cold water. Mainly the second layer is made from wool or similar non-absorbing material. However, if you are paddling in warmer condition, you should opt for a thin second layer otherwise you will have to deal with heavy perspiration. But if the weather is chilly, you can opt for a thick 2nd layer.
4. Outer Layer
The outer layer offers protection from impacts and natural elements like wind, water, sun etc. Probably, a drysuit or a paddling jacket might serve your purpose here.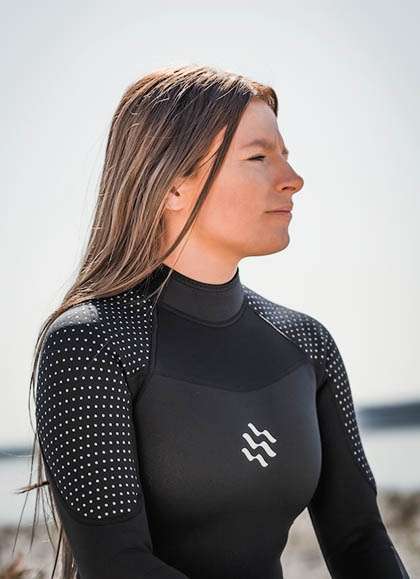 Wetsuit
Wetsuit is worn by almost all water sports participants as it has certain insulation properties. Wetsuit is mainly made from foamed neoprene that adds to its buoyancy. Apart from providing thermal insulation, it can also help the kayaker to float on the water effortlessly in case the boat is upended. Wetsuit also offers a much needed abrasion resistance. Some wetsuits have gas bubbles locked in the suit that adds to its thermal insulation and buoyancy.
Ideally, you need to wear a thin wetsuit otherwise you will feel uncomfortable while paddling. Pay close attention to the fitting because you definitely don't like the idea of kayaking in a baggy and saggy wetsuit. People might mistake you as a hippo! Don't let that happen to you.
Technically, you should not be wearing anything under a wetsuit but rarely do people follow this rule. We need first to get our heads around the fact that wetsuit is not an outerwear. It is a base layer and that means, if you wear an underwear under this, the suit will automatically lose its ability to keep you warn in cold water. If you wish, there is always an option to wear on top of it in case you are looking for more warmth.
Some kayakers do prefer wetsuits with no sleeves because this type of wetsuit does offer extra comfort and makes it easy for the kayakers to paddle for long hours. As expected, this type of wetsuit does not offer full protection from cold water. Therefore, it is always advisable to choose a full sleeve wetsuit with a hood as it offers greater protection from cold water. Now, whatever style wetsuit you choose at the end, you need to make sure that the wetsuit has a relief zipper otherwise you would not be able to empty your bladder for a long time. The absence of a relief zipper will make your next kayaking adventure a miserable one for sure. Moreover, this has some serious health hazards.
Dry Suit
Just like a wetsuit, the main objective of wearing a dry suit is to keep you warm by proving thermal insulation. Besides kayakers, dry suit is also worn by other water sport enthusiasts.
Naturally, you might be asking yourself – what is the difference between a dry suit and a wetsuit? Or which one you should choose for your next kayaking escapade?
All us explain. Dry suits are ideal for cold water condition as they offer better insulation compared to their wetsuit counterparts. In fact, dry suits are designed specifically to stop the water from entering the body and thus allowing you to paddle for long without worrying about hypothermia. However, dry suits have their disadvantages too.
The main problem with dry suit is that they are quite expensive and putting them out is a bit time consuming. Sometimes, they need to be inflated to increase the level of buoyancy. Another major drawback of dry suits is that they can be very uncomfortable if you don them in summer.
However, dry suits have their share of advantages too. The main advantage of wearing dry suit is that they are made from breathable fabrics and that means, they don't trap the sweat inside. They allow the perspiration to get socked in and thus allowing the body to readjust its temperature. This is the reason why dry suits are so much popular among paddlers despite their saggy appearance.
You should not be wearing a thick layer underneath the dry suit because that might lead to overheating when paddling for long hours. If the weather is not too chilly, you might get well with a single base layer. In case, the weather gets chilly, you can switch to a fleece layer.
Dry suits are available in difference shapes and sizes. Choose a dry suit that has a drop seat because that will help you relieve yourself easily. If you want to keep your feet warm and dry while kayaking, you need to make sure that the dry suit has attached socks.
Fan of Eskimo roll? If yes, get a dry suit that has an overskirt because it will stop the water from entering the cockpit during such maneuvers. The gaskets that are widely used in drysuits are mainly made from latex. So, with a little bit of care, they can last lifetime and even if these gaskets get damaged somehow, they can be replaced easily and you would not have to pay an astronomical amount for that.
Gloves
It is your hands that are always exposed to rough weather condition. Be it biting cold wind or patchy water, it is your hands that have to deal with them.
So, you need to choose the right gears to keep your hands dry and warm. I know what you are thinking. Gloves right? Of course, gloves are a great way to protect your hands from cold water. Neoprene gloves can offer some level of protection but they have a serious drawback and that is they can make you lose your grip on the paddle. You might also have to deal with the dreaded wet feeling in your hands. But Neoprene gloves does offer warmth that can make all the difference in cold weather.
Neoprene pogies are a good alternative and they don't hold water which is good. But on the flipside, they are unable to offer any warmth to the hands. All you have to do is to attach them to the paddles and then simply place your hands to grab the handle of the paddle.
Both the Neoprene pogies and the Neoprene gloves have their share of advantages and disadvantages and it is up to you to make the final decision. Try both of them and then figure out which one you like the most.
Hood
Insulated hats are great to keep your head protected from rain. However, if you are expecting windy weather with extreme rainfall, you should don a full neoprene hood or a balaclava. Choose a hood that is made with water resistant fabrics so that your body can keep its heat no matter how cold the water is.
Booties
Since you are not going to move your legs much while kayaking, you will find it hard to keep your feet warm. This is the reason why you need to wear something comfy and water resistant while paddling. Neoprene booties are quite a rage these days as they offer protection from cold water. Now, booties with slippery sole could be a real struggle if you have to walk on rocky surface and which is why you need to select booties with thick rubber soles. Rubber soles are known for offering much needed grip on uneven surfaces. Moreover, these Neoprene booties will keep your feet warm.
If you are obsessed with the idea of getting your feet coming in contact with cold water, you need to opt for over-the-ankle booties. Exposed ankle booties are also a good choice if the weather is nice.