Transporting your kayak safely and securely is essential for any kayaking adventure. However, traditional roof racks can be expensive and cumbersome to install. That's where foam blocks come in. These lightweight and cost-effective alternatives provide cushioning and protection for your kayak during transportation, ensuring it arrives at your destination unscathed.
How to Secure a Kayak with Foam Blocks: Step-by-Step Guide
Position foam blocks on the vehicle's roof, aligning them with the kayak's hull shape.
To safely transport your kayak using foam blocks, you'll first need to position them correctly on the roof of your vehicle. Start by placing the foam blocks on the crossbars or directly on the roof if it doesn't have any. Make sure they are aligned with the shape of your kayak's hull. This will provide a stable and secure base for your kayak during transportation.
Place the kayak on top of the foam blocks, ensuring it is centered and balanced.
Once you have positioned the foam blocks, carefully lift your kayak and place it on top of them. Ensure that the kayak is centered and balanced on the foam blocks. This will help distribute its weight evenly and prevent any unnecessary strain or damage during transit.
Secure the kayak using straps or ropes, tightly fastening it to the vehicle.
Now that your kayak is in position, it's time to secure it firmly to your vehicle. Use strong straps or ropes specifically designed for securing kayaks. Wrap these around your kayak's gunwales (the upper edges of its sides) and attach them securely to anchor points on your vehicle such as roof racks or tow hooks.
Here are some additional tips to consider when securing your kayak:
Tighten the straps or ropes snugly but not excessively tight. You want them to hold your kayak securely without damaging its hull.
Double-check all connections before hitting the road. Ensure that every strap or rope is properly fastened and tightened.
If you're transporting multiple kayaks, make sure they are adequately spaced apart to avoid rubbing against each other during transit.
Consider using bow and stern lines for added stability. These lines attach from specific points on your kayak (usually at both ends) to anchor points at either end of your vehicle. They help prevent any forward or backward movement of the kayak.
Proper Technique for Tying Down a Kayak with Foam Blocks
To ensure a secure tie-down for your kayak using foam blocks, it's essential to follow the proper technique. Here are some key steps and tips to keep in mind:
Use Cam Buckle Straps or Ratchet Straps for Secure Tie-Downs
Using reliable straps is crucial. Opt for cam buckle straps or ratchet straps as they provide a strong and secure hold. These types of straps have mechanisms that allow you to tighten them easily and maintain tension throughout your journey.
Attach One End of Each Strap to an Anchor Point on Your Vehicle
To begin tying down your kayak, attach one end of each strap to an anchor point on your vehicle. This can be tow hooks, roof rails, or any other sturdy attachment points available. Make sure the anchor points are capable of handling the weight and force exerted by the kayak during transportation.
Loop the Straps Around the Kayak and Through the Foam Blocks
After attaching one end of each strap to your vehicle's anchor points, loop the straps around your kayak. Position foam blocks on either side of the kayak's hull where you want them to rest against the roof of your vehicle. Then, thread each strap through its respective foam block.
Tighten the Straps Evenly
Once you've threaded the straps through the foam blocks, it's time to tighten them evenly. Start by pulling both loose ends simultaneously until there is firm tension on both sides. Avoid overtightening as it may damage your kayak or put unnecessary strain on your vehicle's roof.
Check for Stability and Adjust as Needed
After tightening the straps evenly, check for stability by gently rocking your kayak back and forth. If there is any movement or play in the straps, readjust them accordingly until you achieve a secure fit.
Remember these additional tips when tying down your kayak with foam blocks:
Always cross the straps over the kayak's hull to create an X shape. This helps distribute the tension evenly and provides greater stability.
Secure any loose ends of the straps to prevent them from flapping in the wind or becoming tangled during transit.
Consider using additional accessories such as bow and stern lines or hood loops for added security, especially when transporting your kayak at high speeds or in crosswinds.
Advantages of Using a Foam Roof Rack over Traditional Car Racks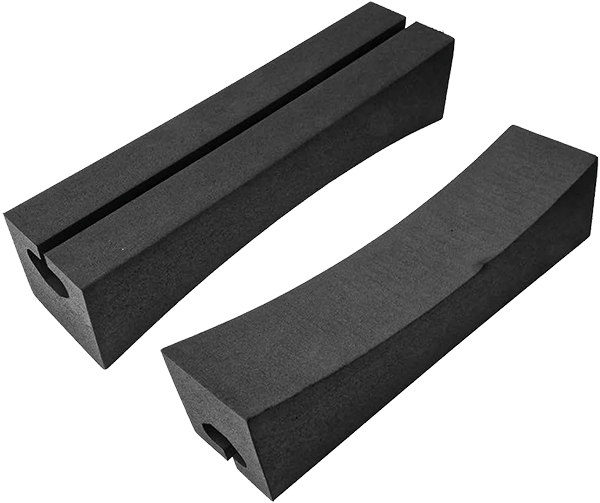 More Affordable Option
Foam racks offer a budget-friendly alternative to traditional car racks. They are significantly cheaper, making them an attractive option for kayakers on a tight budget. With foam racks, you can save some bucks without compromising on functionality.
Easy Storage and Portability
One of the biggest advantages of foam roof racks is their compact size and ease of storage. Unlike bulky traditional car racks, foam racks can be easily stored in your trunk or garage when not in use. Their lightweight design also makes them highly portable, allowing you to carry them around effortlessly.
No Additional Equipment Required
Unlike traditional car racks that often require additional equipment like crossbars or roof rails, foam roof racks eliminate the need for these extras. The simplicity of foam racks makes them hassle-free and convenient to use. All you need are the foam blocks and straps, which are usually included in the rack system package.
Versatile Mounting Options
Foam roof racks provide various mounting options for your kayak. You can position them directly on your vehicle's roof or attach them to the gunnels (the sides) of your kayak. This versatility allows you to choose the most suitable way to secure your gear based on your preferences and kayak design.
Secure Attachment with Cam Straps
Cam straps are commonly used due to their reliability and ease of use. These straps have a cam buckle mechanism that ensures a tight grip on your kayak while providing quick and straightforward adjustments as needed.
Suitable for Different Vehicles
Foam roof racks are compatible with various vehicles, including cars without existing roof rails or crossbars. Whether you own a sedan, SUV, or hatchback, chances are you can find a foam rack system that fits securely onto your vehicle's roof.
Easy Attachment of Additional Gear
Foam roof racks often come with additional attachments or accessories that make it easier to secure other outdoor equipment such as surfboards, paddleboards, or even skis. These attachments enhance the versatility of foam racks, making them a practical choice for outdoor enthusiasts who engage in various activities.