When you paddle out into the river, you're not just engaging in a recreational activity. You're entering a zone where knowledge, preparation, and quick thinking can spell the difference between a fun adventure and a dire situation. Understanding the various facets of river rescue—ranging from self-rescue techniques to specialized equipment like throw bags—is not merely advisable, it's imperative. Whether you're a beginner testing the waters or a seasoned pro, here's your guide to ensuring that you and your paddling buddies can handle whatever the river throws your way.
Self Rescue
As soon as you find yourself in the water, assume a defensive position. This means lying on your back, legs pointing downstream. Arch your back to stay as close to the surface as possible and avoid bumping the bottom. Keep your feet on the surface. This helps you avoid one of the most common river hazards; Foot Entrapment. This is caused by standing in swift current and having your foot pushed into a crevice or snarled root, tree limb, etc. Stand only when the water is knee-deep or less.
Angle your head toward the closest safe shore and back stroke to safety. If you are being swept rapidly toward a hazard you may need to roll to your side into an aggressive swimming position to more quickly reach safety, but stay flat along the surface until you reach shallow, slow water.
Hold your boat and paddle with one hand and swim with the other if it is safe to do so. Otherwise let go of your gear and take care of yourself first.
Shore Based Rescues
Ropes can be a useful tool for assisting swimmers to shore. Throw ropes can be either stored in a Throw Bag designed for quick and easy deployment, or just loosely coiled. In either case, the rope itself should float, and be brightly colored for easy visibility. Because of their simplicity and speed of operation, Throw Bags are recommended.
Throw Bags
Usually between fifty and seventy feet long, these devices are such important tools that it is recommended that each paddler carry one. Regular practice with the throw bag is necessary if speed and accuracy are to be relied upon.
To use a throw bag, first make sure your footing is secure. Open the bag to allow the rope to freely run out, and then grasp the bag in your throwing hand. Hold the free end in your other hand. Shout out to the swimmer. "Rope!" is the accepted call. Then throw the bag either over- hand or underhand, whichever works best for you in practice. Aim to cross the swimmer with the rope. Then steady yourself for a significant force when the rope becomes taut. Sitting down or having an associate help hold you steady is a good idea.
Throw bags are important rescue devices used by specially trained emergency response personnel to reach victims during still water and swift water rescues. Throw bags are sometimes used as messenger lines (or throwlines) to deploy larger bags and as anchors to secure boats and other vessels to docks.

https://www.dhs.gov/sites/default/files/publications/ThrowBags_SUM_1108-508.pdf
Pendulum the swimmer into a safe shore, or pull them closer if you must help them avoid a downstream hazard. Warn them to stand up only when they are knee-deep or less.
All paddlers should be able to swim with a life jacket on, and be able to assist a swimmer with either a boat-based rescue or a rope toss from shore. These are essential skills. There are more advanced skills that can be helpful, such as wading, either singly or in groups, to rescue entrapped paddlers or pinned boats. Setting up mechanical systems to rescue people and/or equipment, learning how to swim in more dif- ficult conditions or how to safely swim over a strainer can all be vital skills for the paddler to know. These skills (and more) should be learned in a class setting, taught by knowledgeable, ex- perienced, certified Instructors. Paddlers would be well served to seek out such classes and Instructors and learn these skills. Your safety may depend on it!
Boat Assisted Rescues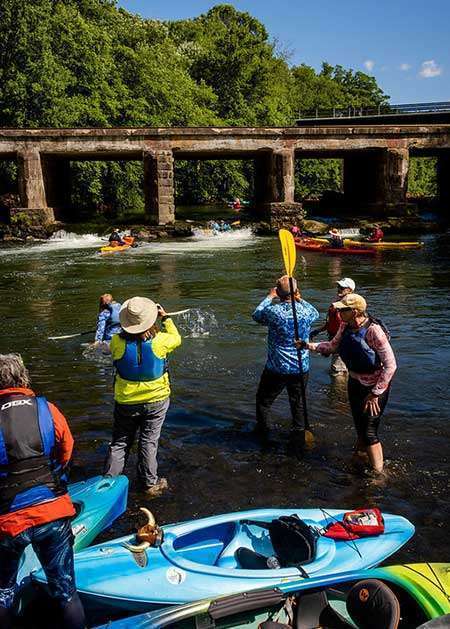 Often a Self Rescue is the quickest and safest method for a swimmer to reach safety. How- ever, a paddler can assist a swimmer in several ways.
The simplest method is to paddle over to the swimmer and instruct them to hold onto either the bow or stern of the paddler's boat. Towing and pushing a swimmer both work well, but determining which will work best in a given situation requires practice.
If towing is called for, have the swimmer hold onto the grab loop or handle at the stern. Instruct the swimmer to kick and swim to help forward progress, and to stay as close to the surface as possible for safety. Paddle to the closest safe shore.
When pushing (bulldozing) a swimmer, have them hold onto the bow and wrap their legs up around the hull. Then paddle to shore. This technique works especially well with panicked or tired swimmers.
Bulldozing an empty boat to shore can work well too, although you'll notice the boat will not follow directions very well. Again, practice is crucial. When rescuing a paddle, simply pick it up and heave it toward shore. Those with large hands may wish to hold both paddles and proceed to shore, but this is awkward for most.
Towing a boat requires specialized equip- ment and advanced training. It can be hazard- ous, and is not recommended for beginners.
Essentials of River Safety
An experienced paddler never takes safety for granted. Every paddler should practice and be competent at self rescue, and be able to help others with simple assisted res- cue techniques. Seek out training, and learn quick uncomplicated methods for helping your paddling buddies, as well as how to use a few simple pieces of safety gear. All paddlers should wear a USCG approved, properly fitted life jacket, wear appropriate protective clothing including secure foot- wear, and have a throw rope, knife, and sounding device. Bright lights should be carried for low visibility conditions.
Preparation and Prevention
Know before you go! This means read- ing guide books, checking with outfitters, or talking to other paddlers with experience on the river you intend to paddle. You'll need to know about hazards, difficulty, water lev- els, where the put in and takeouts are, and more. Make sure everyone in your group has the skills appropriate for the intended iver. Formulate a Float Plan and leave a copy with friends, family, or a responsible party.
Learn to recognize potential hazards, and use good judgment to avoid them. Inclem- ent weather, flood waters, and natural or man-made obstructions should all be seen as danger signs.
Be conservative! Paddling can be safe, and should be fun. Walk around, or leave a wide margin surrounding hazards. Reschedule trips when conditions are simply too dangerous; for instance during floods or extreme cold
Wear a USCG approved, properly fitted life jacket (PFD)!
Be properly clothed and equipped.
Prepare for a safe trip. Use good judgment.
File a Float Plan with friends, family, or a responsible party.
Learn and practice Self Rescue skills. Use defensive and aggressive swimming techniques where appropriate.
Learn and practice assisting swimmers, and rescuing boats and gear.
Carry a throw bag, and practice regularly. Seek out ACA certified Instructors for instruction in paddling, as well as in safety and rescue skills
Stay Safe, and have fun!