Picture your first kayak voyage. Amid the calm flat water lakes, you set off for fishing, paddling your way through tranquil waters. The bliss, however, doesn't last. Your kayak pulls to the left, a seemingly invisible force tugging it away from the straight path. A sense of frustration washes over you. Why does your kayak keep spinning?
This spinning predicament is a common concern among many kayak owners. It can be tricky to pinpoint the exact reasons why your kayak veers off to one side. However, through careful analysis and a little sleuthing, it is possible to solve this mystery. Here's an in-depth guide that outlines possible factors causing your kayak to spin and how to rectify them.
01. The Paddling Paradox: Mastering The Art of Paddling
The most likely culprit behind your spinning kayak is your paddling technique. Navigating a kayak may seem straightforward, but even the smallest errors in paddling can result in your kayak behaving unpredictably. If your paddling form is picture-perfect and your kayak still spins, there may be other contributing factors at play.
02. Perfecting Paddle Technique
Paddle technique accounts for the primary cause of kayak spinning. Ensuring you paddle correctly can alleviate most instances of unnecessary spinning and pulling. The method to check your paddling technique is straightforward. Simply ask a friend or a seasoned kayaker to observe your paddling style and provide feedback. Even without a seasoned kayaker's input, an average observer can spot common paddling errors.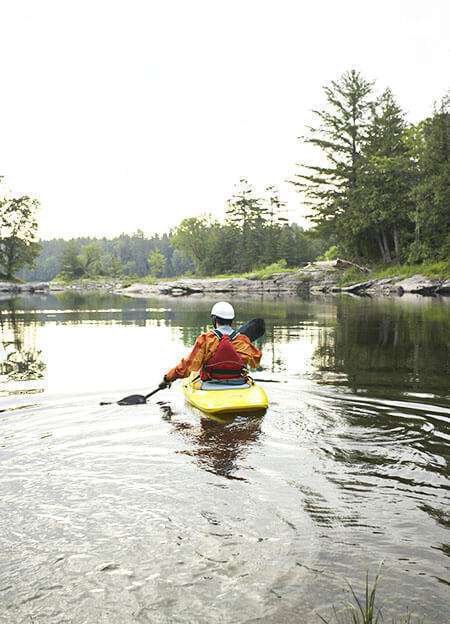 Paddling technique, when mastered, can turn your kayaking experience from a tumultuous tango to a serene waltz. Here are some key elements to fine-tune your paddling performance:
I. Hand Positioning
Your hands, like the conductor of an orchestra, guide the movement of the paddle. They should maintain a shoulder-width distance while holding the paddle. It ensures balanced force distribution and facilitates a straighter path for your kayak.
II. Consistency through Marking
To ensure you hold your paddle the same way every time, mark it with waterproof tape. It's similar to how dancers use specific spots on the stage for reference during complex performances. This subtle indication keeps your handling consistent, creating a rhythm that guides your kayak smoothly.
III. Dominant Hand Awareness
Recognize the power of your dominant hand. If you are right-handed, for example, you might unwittingly paddle harder on the right side. It's like writing with your dominant hand; it happens naturally. Being conscious of this imbalance can help you adjust your strokes for a balanced kayaking journey.
IV. Water-Paddle Contact
Pay attention to the dance between your paddle and the water. Ensure the fin of the paddle dips evenly deep with each stroke. The deeper the paddle fin dips, the more force it generates. Mastering this intricate ballet will help maintain your kayak's balance and trajectory.
V. Sweeping Distance
Make sure your paddle sweeps the same distance from the kayak on each side. The closer the sweep to the kayak, the more spin it creates. It's akin to strumming a guitar, where the strumming distance can change the sound produced.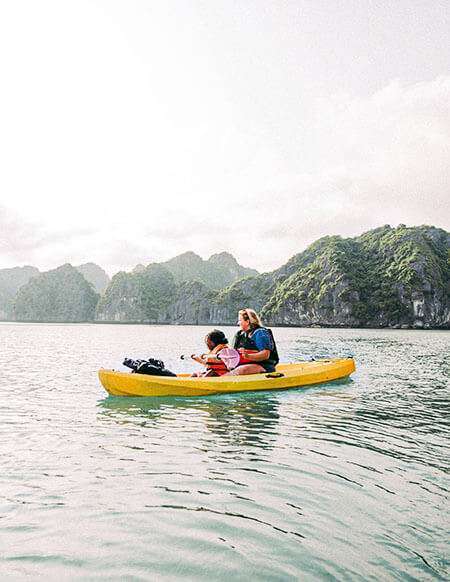 03. Wind's Influence on Kayak Spinning
The wind, although unseen, can be a sneaky trickster when it comes to paddling a kayak. Like an invisible puppeteer, it can pull your kayak off course, causing it to spin and wobble. Its deceptive playfulness can easily be dismissed, but even a small gust can disrupt the otherwise tranquil journey on the water. It's as if you're sailing against an unseen current, disrupting your progress with its subtle yet influential power.
Wind can turn an otherwise straightforward kayaking adventure into an obstinate wrestling match, particularly when your objective is to keep the kayak moving in a straight line. If you observe your kayak deviating from its path and starting to spin, take a moment to feel the wind's direction. Understanding the wind's behaviour and adjusting your paddling accordingly can help you maintain control of your kayak, much like a ship captain adjusting his sails to harness the wind's power.
04. Decoding Defects and Damage
Just like a well-loved guitar that starts to show signs of wear and tear, your kayak too might bear the marks of its adventures – or even have arrived with some from the factory. Sometimes, the issue causing your kayak to spin doesn't lie with you or the wind, but within the kayak itself. A rarely mentioned but possible cause could be a defect or damage to the kayak. These silent whispers of trouble can be present in both older, well-used kayaks and new ones fresh off the production line.
The process of investigating your kayak for potential defects or damage can be as exciting and exasperating as solving a mystery novel. To start your detective journey, flip your kayak upside down and inspect its hull. Look for large nicks or deep scrapes that could be the culprits of your spinning woes. It's like looking for clues that lead to the solution of the spinning mystery.
05. Putting Your Kayak on Trial
An easy way to investigate if your kayak is the root of the spinning problem is to conduct a kayak switcharoo! Exchange kayaks with a friend and observe what unfolds. If your friend, in your kayak, starts spinning just as you did, the problem likely lies with the kayak. On the other hand, if you find yourself pirouetting in your friend's kayak while they glide smoothly in yours, the issue might lie with your paddling technique. This comparative analysis helps to isolate and identify the problem.
The Water Test
Despite a thorough inspection, your kayak might conceal its secrets well, appearing innocent and unscathed. In such cases, a water test can help unravel the mystery. Similar to launching a ship in a bottle, place your kayak gently in a calm, shallow water body. With a gentle push, set it on its path and keenly observe its movement.
If the kayak starts to pull to one side, it might be hiding a defect or damage. This water test can reveal the concealed flaws that were invisible during your visual inspection. Remember, safety is paramount during this test. Ensure you're in safe, shallow waters and avoid pushing your kayak towards deeper areas where retrieval might be difficult.
Through these methods, you can ensure that your kayak is in optimal condition, ready to glide smoothly on the water and provide you with a serene kayaking experience. Don't forget to enjoy the process, treating each paddle stroke as a step in a dance with the water.
06. Phantom Spin: Unraveling the Psychological Factors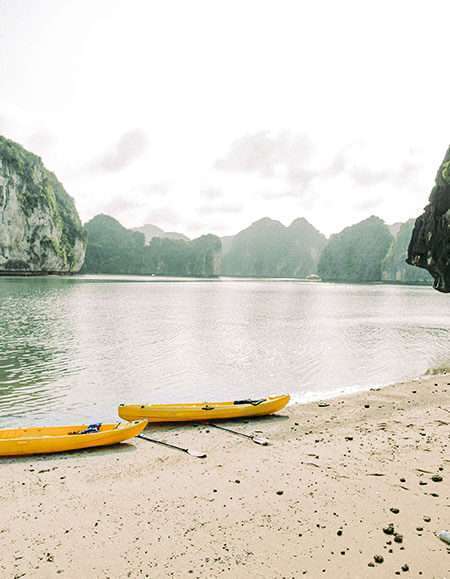 As bizarre as it may sound, sometimes, the spinning problem is simply an illusion, a mirage created by your mind. Once you've scrutinized your kayak and fine-tuned your paddling technique, and you still find yourself spinning uncontrollably, it's time to consider psychological factors. Like an illusionist playing tricks on the audience, your mind can create problems that don't exist in reality. The phantom spin might just be your mind's playful trick!
Kayaking, much like any physical activity, requires a harmonious relationship between mind and body. Overthinking, stress, or distraction can disrupt this balance, leading to perceived issues like spinning. It's crucial to relax and let your body find its natural rhythm of paddling. Similar to a musician finding the right rhythm or a dancer moving in sync with the music, letting your body follow its instinctive paddling rhythm can resolve the phantom spin issue. Remember, overthinking can lead to paddling errors, so clear your mind and enjoy the flow of your kayak through the waters.
When all techniques and tests fail, perhaps it's time to embrace a mindful approach. Clear your mind and focus on the joy of kayaking – the soft sound of water lapping against the kayak, the cool breeze against your skin, the rhythmic motion of your paddles. By diverting your attention from the spinning problem to the enjoyable elements of kayaking, you might just realize that the issue has resolved itself.
Conclusion
Solving the spinning mystery of your kayak is like piecing together a complex puzzle. It requires a thorough examination of various aspects – your paddle technique, your body's balance, the influence of external factors like wind, the integrity of your kayak, and even your psychological state.
Perfecting your paddle technique and maintaining body balance involves diligent practice. Considering the wind's impact requires keen observation and adaptable paddling. Recognizing a defective kayak calls for a detective-like inspection and testing. And resolving a psychological block requires you to relax and indulge in the joy of kayaking.
In the grand scheme of things, perhaps the spinning isn't a problem at all, but a part of the journey, a reminder to tune in to yourself, your kayak, and nature. So, let the journey be your goal, and may you find joy in each paddle stroke. Happy kayaking!